This is our two course wedding breakfast package providing tasty traditional style options served in our unique buffet display allow your guests to have the meal they want. The price includes a chef, clothed buffet table, our rustic display, cutlery, white plates and napkins.

Step 1. Choose 3 meat meal options and 1 vegetarian option
Step 2. Decide on warm minted new potatoes or sauté potatoes
Step 3. Choose 3 salads (from our salad menu) or a selection of vegetables
​Step 4. Choose 3 desserts (from our dessert menu

Perfect for any high-end wedding or corporate event.​
Wedding Breakfast
British pork stuffed with sage, lemon and garlic

Chinese style roast British pork with thyme, butter and apricots

British beef soaked in mulled wine

Classic British beef with salt, pepper, horseradish sauce and a Yorkshire pudding

Roast red pepper and goats cheese tarts

Whole sides of Salmon with handmade lemon mayonnaise

Mediterranean Vegetable skewers with a balsamic reduction and fresh pesto

Roasted chicken fillet with lemon and thyme
​
Cod with lemon butter

Not what you're looking for? All our menus are suitable for wedding breakfasts from hog roasts to paellas - they are just priced separately.
And we can create tailored wedding catering packages to meet your requirements. We provide a high end service with white plates, cutlery and waiters/waitresses as well as a vast range of delicious sides to add to your hog roast including salads and potatoes. We also offer a vast range of catering including canapés, starters,

other roasts

,

wedding breakfasts
,
big pans and evening catering.
All our main food options are served on our unique rustic display allowing your guests to come up and have a create the meal they want rather than the meal they are given. We display everything on our rustic display to create make the food a feature at your event. The sharing boards and jam jar desserts can be served to the tables.
​Take a look at our delicious menu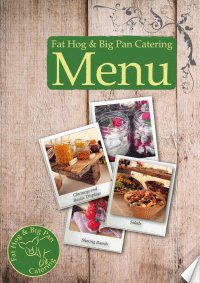 Dear Rob and team







Thanks so so much for the wonderful catering that you provided for our wedding in Old Basing on 26 July.







From the outset you were very professional and friendly in our dealings with you. We were very grateful to be able to draw on your experience and you made selecting the food for our wedding not only hassle free but enjoyable.







Throughout the planning stages we felt comfortable and confident knowing that you're a "safe pair of hands."







On the day, the food and service were both fantastic. All of our guests were unanimous in saying that the food was delicious and so different from the usual wedding grub. Your staff were all incredibly friendly and were so helpful in making the day run smoothly. One waiter in particular always made sure our glasses were full which we really appreciated.







Whatever we wanted, you made it happen, from the setting up, to the prosecco pouring, to the cutting of the cake, it all went exactly as requested. We were so grateful that you were able to make a delicious separate dish just for one person. You made us feel as though nothing was too much trouble and we felt comfortable in asking you for whatever we wanted.







We wish you and the Fat Hog Big Pan Catering Company all the very best for the future. We will certainly recommend you to any family




and friends who may need catering in the future.







Please do let us know if you're catering anywhere that is open to the public as we would love to come along and sample your amazing food once again!







All the best




The Halls J